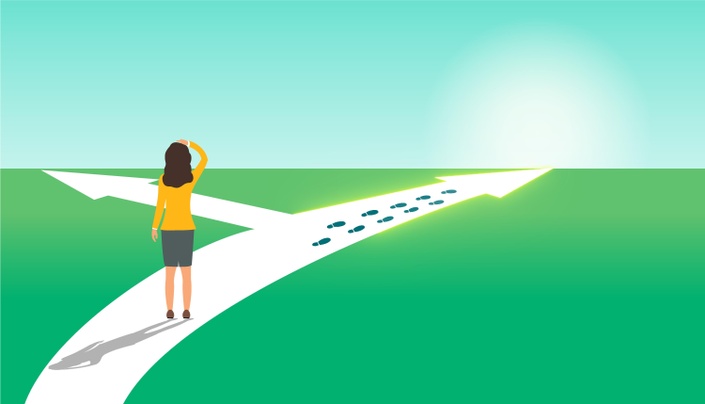 Designing Nudges
A step-by-step framework to designing behavioral interventions that work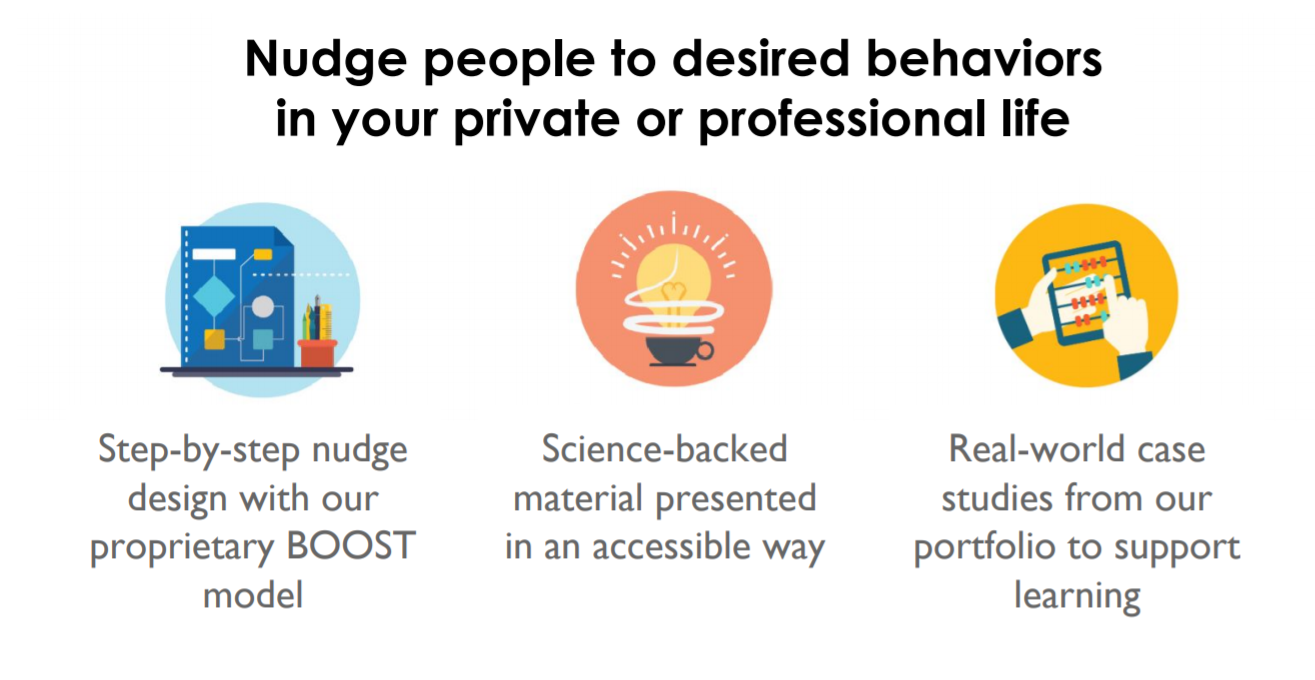 Take it to the next level

If you're reading this page, you're probably already familiar with behavioral economics and nudging. You know about the power nudging has to change human behavior for the better, and have heard many examples of it in action. You're probably curious to try it for yourself!

Our self-paced course will guide you in designing your own behavioral intervention: you'll gain both the knowledge and concrete tools to design nudges for different situations you encounter at work or in your private life. The course workbook will help you design and test your nudge following our step-by-step BOOST model, while our videos and quizzes will guide you through the most cutting edge knowledge of the subject matter. Together, these will ensure you can design interventions that really work. Within days, you will be able to see your first nudge in action!

We've developed this course based on years of scientific research, our experience applying behavioral science in practice, and having trained hundreds of executives on behavioral economics. This online course allows behavioral science enthusiasts to take the next step and try out nudging in their environment!
This course is for you, if:

People and human behavior fascinate you; you love observing the world around you and asking questions

You understand the basics of what nudging is

You are excited about helping people make better decisions

You want a step-by-step guide how to design nudges that work in your context
And you are ready to take the next step in your journey of human understanding, to experiment with designing nudges that get people to act on their best intentions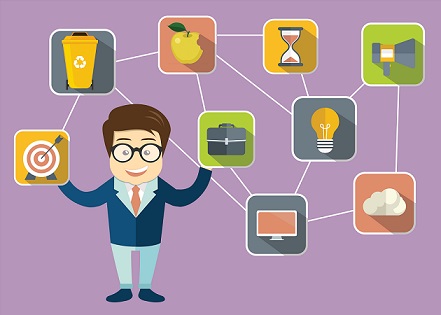 Ready to influence decision-making
and create change in human behavior?
This course will teach you how to:
Identify "nudgeable" situations and behaviors

Design and implement nudges that help people make choices that are better for them (and you)

Test the outcomes of your interventions

Create change in your work or private life - wherever there are people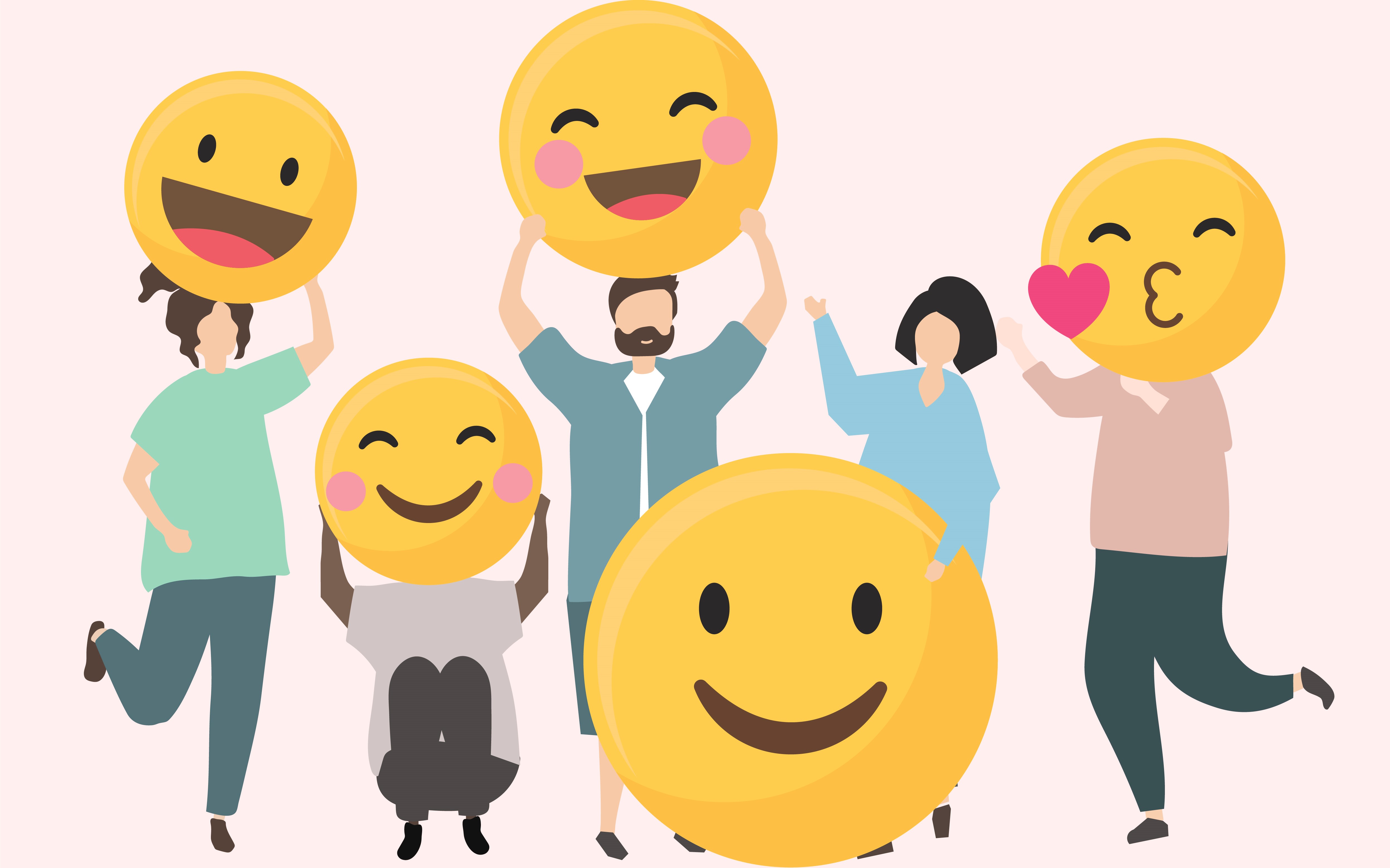 "A good clear framework on how to apply BE - often that seems to be what's missing. The course was fantastic - enough info to set people on the right path, but not too much to get people overwhelmed with new info."
- Anonymous, Course Participant September 2019
What do I get when I sign up?
Throughout this course you'll learn how to use the REFINE matrix to identify the appropriate type of nudge, and follow the BOOST model to successfully apply it to your own challenge. You will get unlimited access to the online materials including 24 bite-size video lectures and accompanying quizzes and activities. In addition, the workbook will guide you in nudge design throughout the course and any time in the future. You can also receive a certificate showing that you have completed the course!
You can preview some of the course videos below!

How much does it cost?
Our online training is 75 USD + VAT where it applies.

How long does it take to complete?
The course is designed to be self-paced. Your progress will depend entirely on the time you wish to invest and the nudge you want to develop.

Still unsure? Let's make it easier.
If for any reason you're not satisfied with our course, we'll return your money, no questions asked.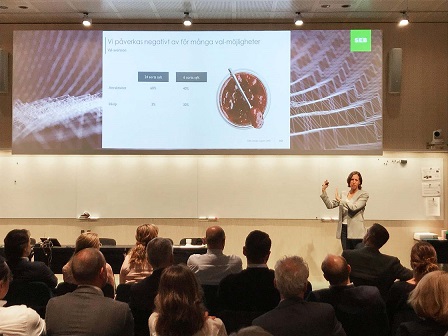 "The best thing about the course was learning a process that I can use again and again for different challenges."
- Executive in our F2F training

By the end of this course…
You will be able to use behavioral science to overcome barriers that are hindering people from achieving their desired results

You'll master our two exclusive frameworks, BOOST and REFINE

You'll know how to choose the right intervention or nudge to fit your challenge, how to measure its effectiveness and how to scale it
Our Instructors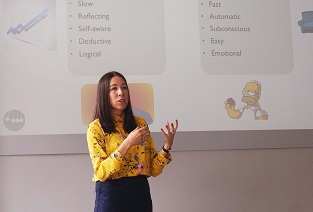 Dr. Christina Gravert

Our resident behavioral scientist Christina is an Assistant Professor in Behavioral Economics at the University of Copenhagen. She has been researching decision making for close to 10 years, collaborating with local and national governments, non-profits and private companies to run large scale RCTs; and publishing her work in top academic and policy journals. At the university she teaches the Master level course "Behavioral Economics in Action". Christina is a keynote speaker and workshop leader on nudging for behavior change, and has trained hundreds of executives who implement her method to change behavior.
Christina fell in love with behavioral economics when she first read Predictably Irrational by Dan Ariely. Little did she know that less than a year later she would be sitting in a hammock in Dan's office, and eating Korean Tacos with Richard Thaler in downtown Chicago.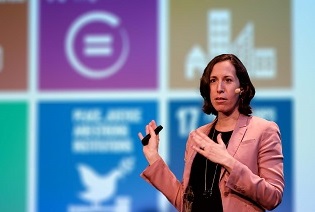 Nurit Nobel
Before co-founding Impactually, Nurit was a management consultant, advising Fortune 500 corporations in marketing and strategy; among other things, she worked with one of Europe's largest telecom companies to reposition their global brand strategy, based on consumer understanding. She now uses this know-how to influence human behavior toward better decision making, and regularly trains executives on behavioral economics. Nurit also has a Masters in Social Psychology from LSE, and is currently a PhD candidate in Decision-Making and Economic Psychology at Stockholm School of Economics.

Nurit frequently uses nudging in her own life. She's found that some types of nudging work really well on her 3-year-old, but her newborn's decision making is harder to influence.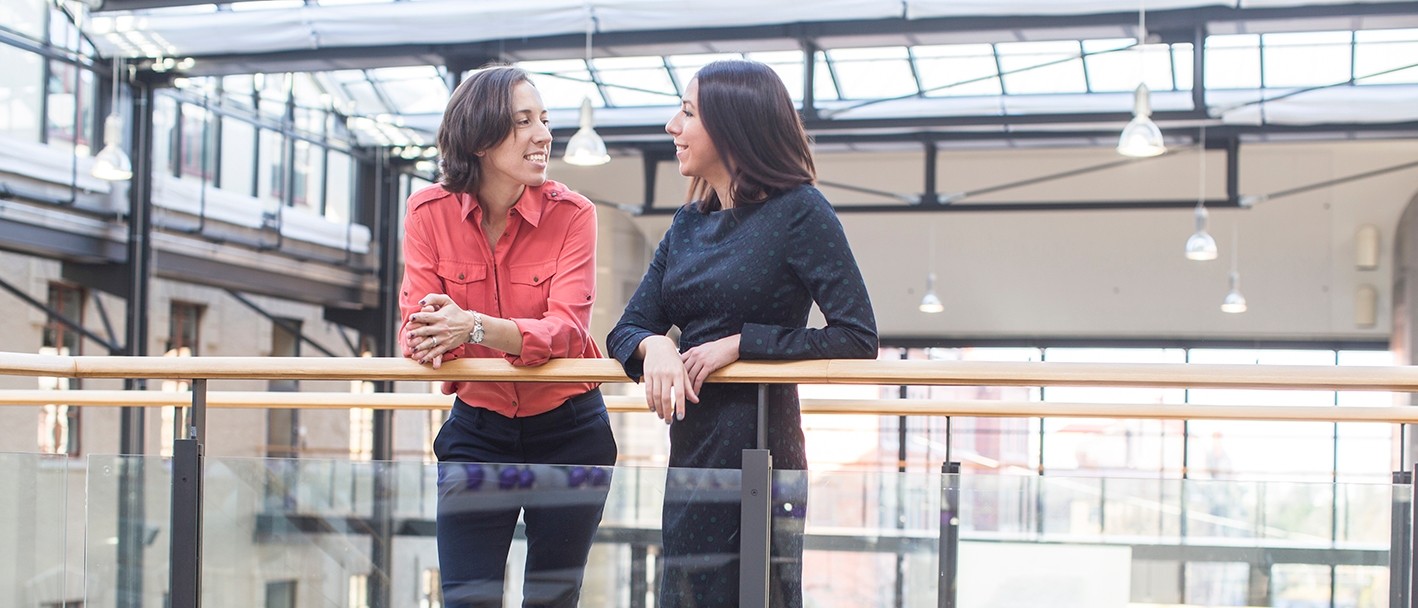 About Us
Impactually is a behavioral science consultancy founded in Stockholm in 2017 to bring cutting-edge behavioral research out of the lab and into the real world where it can be used to create societal and business impact.
We've worked with a range of clients across sectors and industries, from the Swedish Environmental Protection Agency to leading retailers and banks. If you want to learn more about us and our work, go here.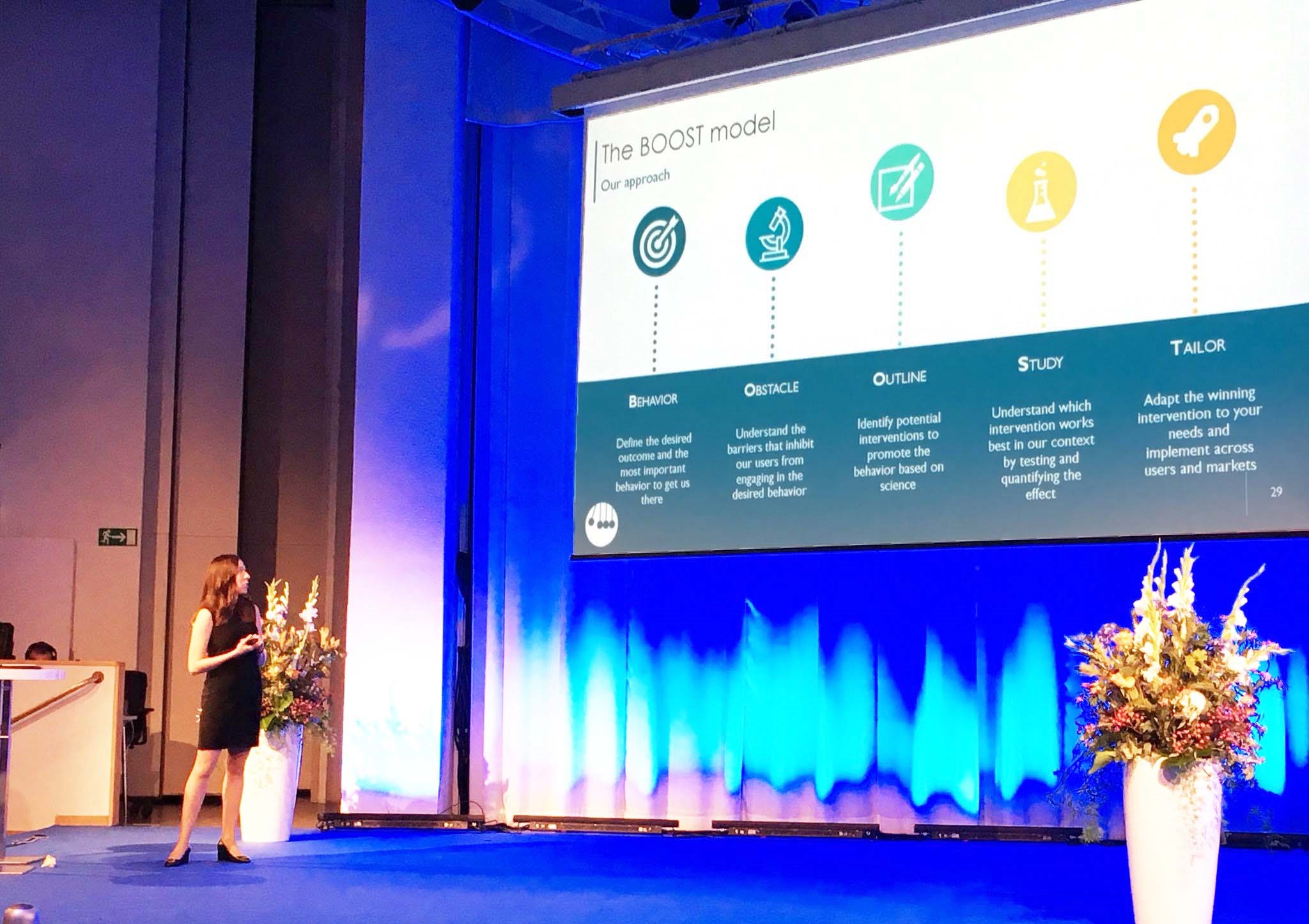 Enroll now for $75 and take the first step towards applying behavioral science in your personal life or work!

Still have questions about the course?

Email us at [email protected] and we'd be happy to clarify.